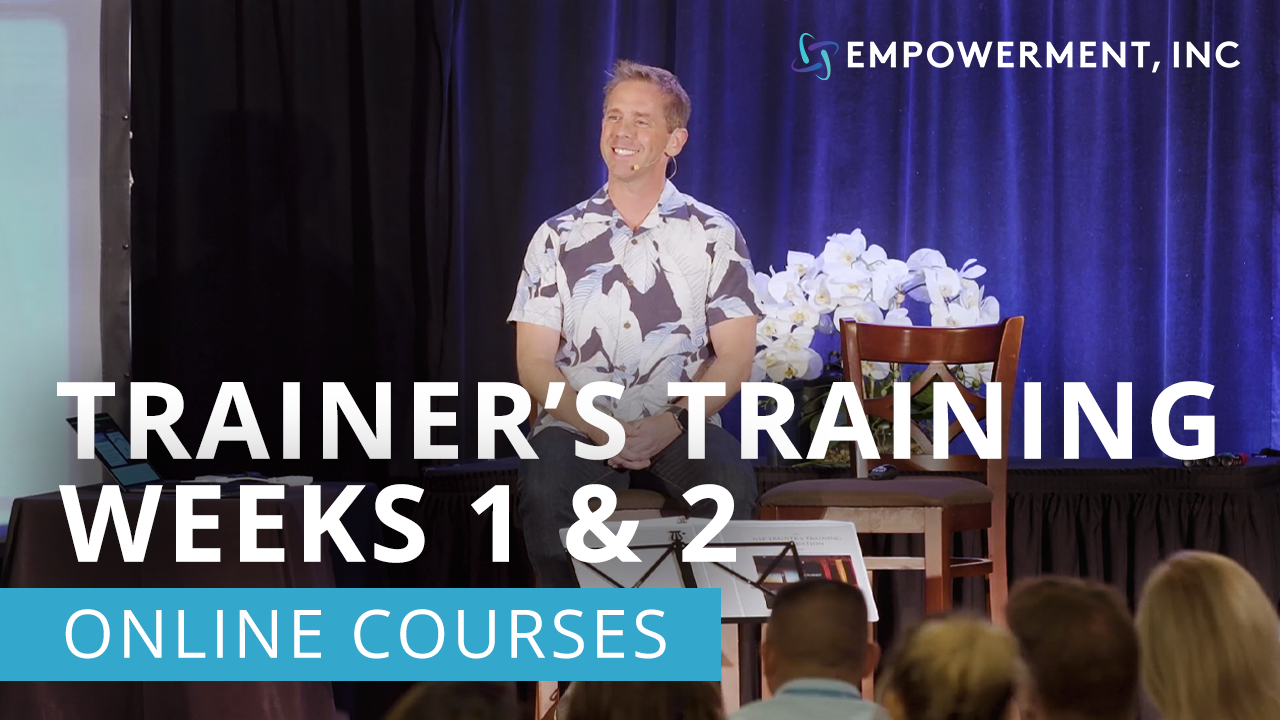 Trainer's Training Complete Online Course (Weeks 1 & 2)
Learn communication and presentation secrets of the world's top speakers!
---
HOLIDAY SAVINGS 🎁️
$1,792
Regularly $2,392
Save now through December 31, 2023
---
Your ability to communicate is EVERYTHING! How you communicate is tied to your success and results in business and in life! It is the basis of how you are able to inspire and lead your team, clients, family, customers… ANYONE.
Are you ineffective in expressing your talents, passion and desire?
Do you want to find your voice and be able to truly express yourself?
Do you aspire to communicate at the level the masters do?
Do you have a phobia or fear of being in front of people?
Are you ready to make more money?!?
Why Trainer's Training?
Learn authentic heart-centered communication

Be more approachable as a communicator

Cultivate inspirational leadership skills

Find your voice, your path, and your ability to express it at the deepest level possible

Become an incredible and respected presenter
---
Why Learn from the Empowerment, Inc.?
We have been teaching and creating presenters since the 80s, and have consistently been improving this training with cutting-edge technology.

Our company has studied and modeled the greatest communicators of all time to create this training. We discovered and mastered the unconscious behaviors that they have mastered, and install them in your neurology using NLP.
---
Our Goal For You:
To be 100% "bullet proof" in front of any size group

Master communication and know how to inspire anyone

Have the behaviors installed at the unconscious level, so you are able to produce the behavior of influential communication immediately
---
You will LEARN:
Week One - Trainer's Training
Specific strategies to communicate with everyone in any group size

Unconscious communication through language and physiology (body language!)

Group dynamics, how to effectively lead groups and how to solve any potential challenges that surface

The secrets of metaphors and storytelling that will inspire your listener

Various learning styles and how to effectively teach to each of them

How to work with and incorporate energy into your presentations and communication

The ability to command your voice through vocal and tonal training

How to elicit emotions and states from the audience at will

The conscious and unconscious ability to lead and inspire while you are in front of the group

How to handle challenging students and their behaviors when they show up at your event

How to feel confident in any conversation
Week Two - Trainer's Training
How to create your own trainings based on how the experts create their events

How to do radio, TV, podcast, FaceBook live, YouTube and webinar presentations that work

How to sell with integrity from stage and inspire enrollments into your service

Creating moment-to-moment state control in yourself and your audience

How to evoke, anchor and utilize emotional states with a group

How to create instant rapport with your group

Eliminate your biggest fear with presenting using NLP, and install recovery strategies at the unconscious level

The complete installation of physiological presentation behaviors

Learn how to use comedy and humor, and install the belief that you can get your audience to laugh at will

How to do any NLP demonstration and learn how we make all our demos look like magic

Learn the most masterful techniques on how to answer questions from your audience

The business of training and how to create a successful training company
---
This course includes:
Over 38 Hours

of high-quality video instruction recorded from a Live Training and taught by Dr. Matt James, Master Trainer of NLP and Owner of Empowerment, Inc., along with the expert trainers at Empowerment, Inc.
9 Modules with 46 Video Lessons
Video Demonstrations of the techniques
Exercise Instructions for practice
Complete PDF Manual

and Track List
On-demand access

to be able to watch or listen anytime
Fully accessible on our App

to access on your phone or favorite device! The "Integrative NLP & Huna with Dr. Matt James" App is available in both the Apple and Google Stores.
---
*These Trainer's Training Weeks 1 and 2 Online Courses are NOT eligible for NLP Trainer's Training Certification. THIS IS NOT A REPLACEMENT FOR THE LIVE, IN-PERSON TRAINING. Certification is granted to students that successfully complete attendance at the live, in-person Trainer's Training Weeks 1 and 2, and Trainer's Evaluation. To learn more about the live training, please click here.
---
REFUND POLICY: This course is not eligible for a refund.
---